BBR Announce X-Tra Series Races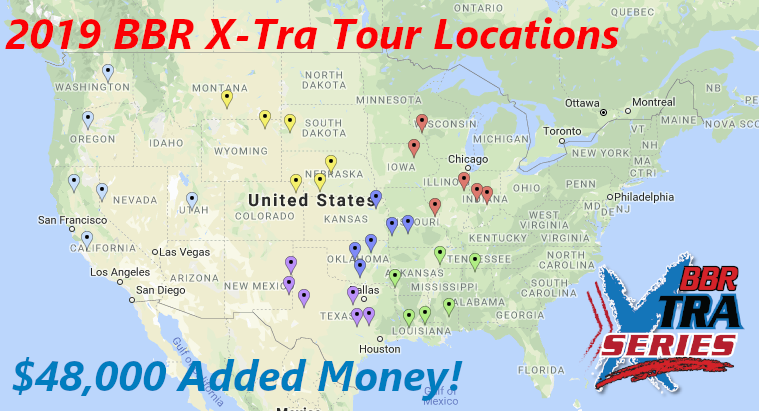 The BBR X-Tra Series offer added money along with special series standings and awards. Each series event includes a BBR Members Only Sidepot competition offering series points and BBR World Finals qualification credit. Series points leaders win awards including a guaranteed spot in the Short Go when entering the BBR World Finals! With six (6) X-Tra series across the nation, there is one near you! 
There will be six X-Tra Series across the nation - Eastern, Mid-America, Mid-South, Northern, Southwest & Western - in 2019.  
Each X-Tra Series will have a total of $8,000 Added with $1,000 Added Members Only Sidepots at five (5) X-Tra Series Races and $3,000 Added at the X-Tra Series Finale.
X-Tra Series Sidepots will open to BBR Members Only and will count as Double Points/Double Qualifiers towards Regional Standings and BBR World Finals Qualification.
Each X-Tra Series will have separate standings based on points earned in the X-Tra Series Sidepots only.
Awards will be given at each X-Tra Series Finale for the top point earners in the X-Tra Series Standings!
Added Money and Prizes for the BBR X-Tra Tour Series is provided by the following sponsors!
Vitalize

Standlee Hay

Equi-Resp

Ritchie Waterers

AIP, Inc.

Med Vet Pharmaceuticals
Vitalize Mid-West X-Tra Tour

Date
Event
Location
Added $$
07/06/19
Chalee Gilliland Memorial Barrels & Bling benefit
Cloverdale, IN
$1,000
08/24/19
Go For Broke
Waterloo, IA
$1,000
09/01/19
Valley Mount Ranch
Valley Park, MO
$1,000
09/07/19
Indiana Futurity
Edinburgh, IN
$1,000
10/26/19
Barrel Bash
Gifford, IL
$1,000
11/09/19
Ritchie Waters Barrel Race
Winona, MN
$3,000

Standlee Hay Mid-America X-Tra Tour

Date
Event
Location
Added $$
07/06/19
Red White & Boom
Marshfield, MO
$1,000
07/20/19
Fab Productions
Sapulpa, OK
$1,000
08/17/19
Summer ShootOut
Oklahoma City, OK
$1,000
08/31/19
Barrel Bash
Topeka, KS
$1,000
09/07/19
Carnival of Cans
Carthage, MO
$1,000
09/29/19
Ardmore Barrel Futurity
Ardmore, OK
$3,000

Equi-Resp Mid-South X-Tra Tour

Date
Event
Location
Added $$
06/08/19
Annual Runnin WJ Benefit Barrel Race
Texarkana, AR
$1,000
08/10/19
Megan McCain Memorial
Decatur, AL
$1,000
09/01/19
TBD
Hattiesburg, MS
$1,000
10/05/19
Barrels for Tots & Troops
Kinder, LA
$1,000
11/02/19
Fall Into Cash
New Roads, LA
$1,000
12/07/19
Lucky Dog - Memphis
Memphis, TN
$3,000

Ritchie Waters Northern X-Tra Tour

Date
Event
Location
Added $$
07/13/19
Midwest Pole Bending Assn
Rapid City, SD
$1,000
08/11/19
Turn N Burn For A Cure
Yuma, CO
$1,000
08/17/19
Triangle Cross Barrel Classic
McCook, NE
$1,000
08/31/19
Cornhusker Open
Broken Bow, NE
$1,000
09/07/19
Fizz Bomb Barrel Race Classic
Gillette, WY
$1,000
10/21/19
Montana Barrel Daze
Silesia, MT
$3,000

AIP Southwest X-Tra Tour

Date
Event
Location
Added $$
07/06/19
Go Fast Barrel Races
Taylor, TX
$1,000
07/20/19
Outlaw Memorial Classic
Clovis, NM
$1,000
08/03/19
Live Life to The Fullest Barrel Race
Midland, TX
$1,000
09/07/19
LCBRA
Lovington, NM
$1,000
10/05/19
WinMore - Sharon Barder Memorial
Glen Rose, TX
$1,000
11/02/19
Southern Territorial Finals
Bryan, TX
$3,000

MVP West Coast X-Tra Tour

Date
Event
Location
Added $$
06/22/19
Showdown In The Cascades
Powell Butte, OR
$1,000
06/29/19
Lita Scott Barrel Race
Reno, NV
$1,000
08/11/19
Salinas Valley Fair
King City, CA
$1,000
08/17/19
Southwest Desert Classic
Salina, UT
$1,000
09/01/19
Producers Gone Wild
Moses Lake, WA
$1,000
09/22/19
BBR Western X-Tra Tour Finale
Red Bluff, CA
$3,000